TPI 30" Commercial Circulator Wall Mount Fan - CACU30W Review
If you're dreading the sticky, sweaty feeling every time you work, you would love the cooling prowess of this wall mount fan for commercial and personal use.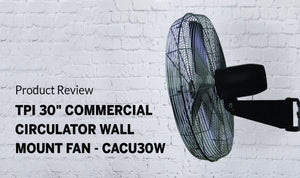 Our Verdict
4.5/5.0
PROS
Three speed settings with one up to 6,200 CFM
Durability that can last a lifetime
Ventilates a room with little noise
Meets OSHA standards
Easy to install, clean, and maintain
CONS
Non-oscillating
Made-to-order, not readily available
Overview
Comfort is essential if you want to keep your team working productively. So, keep your warehouse, facility, restaurant, classroom, office, or any wide workspace at a stable temperature by cooling it down with the 30" Commercial Circulator Wall Mount Fan from industry leader, TPI.
With high-powered strength, this TPI commercial circulator fan is perfect for industrial settings. All you have to do is mount it on a wall and you will be able to improve air circulation in an otherwise stuffy room. That's one great thing about having something up on your wall; you get the freedom to get extra air in the room without sacrificing space.
If you work in an area that generates smoke, burns fuel, and produces heat, this TPI product is the perfect wall mount commercial fan to pick. Imagine how comfortable you and your team would feel as you enjoy fresh air and freedom from bad odor.
Designed to last you for a lifetime, this TPI commercial circulator is made from a combination of steel hub and aluminum paddle blades. Moreover, its steel guard is compliant with the guidelines set by the OSHA, making it have lower risks for injuries.
Once you get this TPI commercial circulator, simply mount it on the wall where you need it the most with the hardware included in this purchase. All you need is a 120V electrical connection and you can start using this for optimal cooling and comfort.
Features and Benefits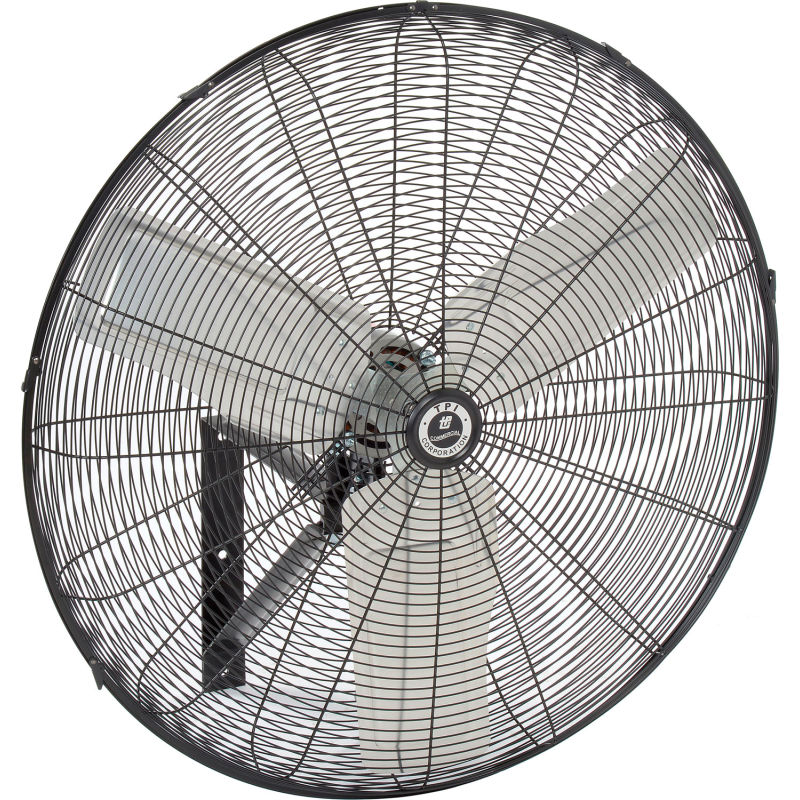 For spacious areas, you can't just pick out any electric fan and expect it to do its job well. You need something huge and able to handle a large space. That's what the 30" Commercial Circulator Wall Mount Fan does for you.
If you're looking to maximize air circulation, this fan boasts a 30" diameter fan head that can cool down a large area, up to 75 square feet, with not much effort. As you have the option to mount it where needed, strategic placing will help you maximize the area coverage and circulate air better.
But don't worry that this commercial wall mount fan will overwhelm you with feeling too cold when the temperature goes down. This fan comes with three speed settings you can easily switch on at any time. A pull chain switch is easily accessible, so you can toggle between different speed levels or turn it off when not in use.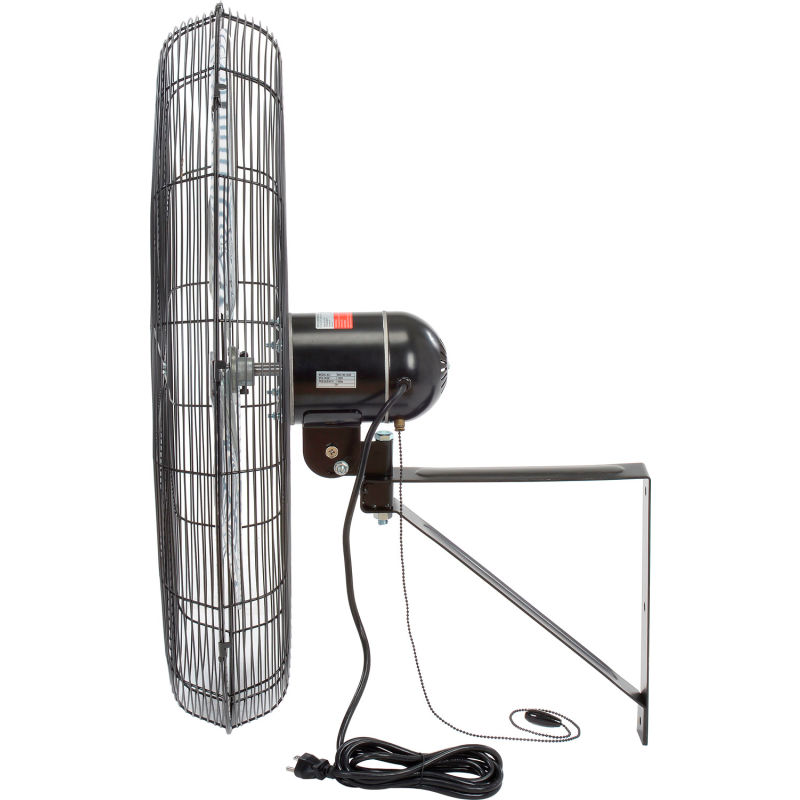 The lowest setting hits 3,500 cubic feet per minute (CFM), the second one's scope rises up to 3,800 CFM, while the highest can reach up to 4,200 CFM. With these options, you get the freedom to choose according to your preference and your needs.
For quick and easy access, this wall mount exhaust fan for commercial use comes with an SJT Type-3 conductor that reaches nine feet in length. Feel free to place it in hard-to-reach places—you'll still be able to connect it to an electric outlet.
Here's a quick rundown of the best features of the TPI 30" Commercial Circulator Wall Mount Fan - CACU30W:
Durable industrial fan for workplace environments
Coated metal finish
Three speed settings with airflow up to 6,200 cubic feet per minute
Works as an exhaust fan to get rid of bad odors
Lightweight and easy to carry
Steel hub and spider assembly for durability
Pull chain switch for switching on and off or changing speeds
Quick and easy to install—makes use of an enclosure and screws to secure
Easy to clean and maintain
Has blade cages that meet workplace safety standards set by OSHA
Permanently lubricated for smooth flowing movements
Every purchase comes with 1-year limited warranty
Safety Features
This TPI 30" Commercial Circulator is designed to cover huge spaces, particularly commercial spaces like offices, restaurants, warehouses, and shops. Wall mount fans can have sharp steel blades and it is very important to be prepared with contingency plans in case an accident happens, all before you jump in and purchase your own wall mount fan. But before you think about any of that, TPI has already ensured their product is safe for customers like you.
First of all, the steel guards are coated under OSHA compliance and they come with retaining clips, so you can avoid getting any injury from the quickly spinning blades. Moreover, the pull chain switch in this wall mount fan is helpful in avoiding possible injuries as it eliminates the need to reach up just to change the speed of the fan.
Overall, this TPI wall mount fan satisfies the brand specifications, so you can expect ergonomics and high quality design, all of them thought of with safety and security in mind.
Best Ways to Use the Product
Cooling, ventilation, and temperature control are easily achievable for your home or workspace when you install the TPI 30" Commercial Circulator Wall Mount Fan. Once it arrives on your doorstep, get ready to assemble and install it properly on the wall and you're good to go.
When the wall mount fan is plugged in and well-mounted, all you have to do is to pull down the switch and select the correct speed based on your current situation.
For best results, make sure that your fan is mounted in the correct area. Look at the distance from the ceiling and the floor, as well as how far the wall mount fan will be from the space you want the air to reach. Make sure the fan is far enough from the floor that it won't catch people's hair or clothes when someone walks by. Corners could also be tricky if you opt to put the spin mode on so make sure you correctly measure the distance of the fan from corners to avoid any obstructions.
Why You Should Buy
If you are looking for a way to ventilate a room in your house, restaurant, gym, garage, office, store, or your entire patio, the TPI 30" Commercial Circulator Wall Mount Fan - CACU30W can do the job and blow you away so to speak.
When investing in air circulators and fans, you want to have something that can last you for a lifetime. With this model, you get state-of-the-art parts and materials, and a ¼ horsepower motor for heavy-duty performance. You get a steel hub, steel hub, and aluminum paddle blades that are tried and tested for their durability.
Remember how hard it is to think and concentrate when the heat is unbearable? Well, that's not going to happen when you add this TPI creation in your home or workspace.
With the three speed options, one reaching beyond 6,000 cubic feet per minute, what more can you ask for? In the hotter months, you are sure to have something that will give you comfort. But in the winter, you have the option to select the lower speeds to better manage a room's temperature.
User Reviews
The TPI 30" Commercial Circulator Wall Mount Fan - CACU30W holds an average rating of 4.5 out 5 stars from those who bought it, and that's a considerably high score from a wide range of satisfied users.
Among everyone who has tried it, most users rave about the wall-mounted fan's power to move air—whether for ventilating a hot room or giving the air conditioner an extra push in circulating cool air. This fan has been used in garages, shops, back-of-house areas in restaurants, and outdoor patios and the general consensus is that it works well for those particular spaces.
However, what is surprising to some users is the need for installation. Some feel like the instructions are inadequate while others think the overall process is easy. Clearly, it can be a hit or miss—our tip is to anticipate that you'll have to drill so you can securely mount the fan to your wall.
Now if it's about their favorite feature, users really enjoy the ability of the fan to produce lots of air. In particular, the wind the fan blows helps in keeping bugs away in outdoor settings and cooling down very hot work areas
Additionally, a number of users rave about how little noise this wall mount commercial fan makes in comparison to the help it gives with air circulation and cooling. Still, this is based on their location and room area and the number of fans in the room. If, for example, you have three to five in a small area, this commercial fan model can generate some noise that may make conversation hard.
Lastly, users appreciate how this fan delivers a strong performance in comparison to its price. Lots of these buyers agree that this 30-inch commercial wall mount fan from TPI provides the best value for your money. After all, with your purchase, you get a powerful ¼ horsepower fan with three different speed types you can choose from.
Whether you're looking for something you can use for your home, your yard, or your workspace, this TPI 30" Commercial Circulator Wall Mount Fan - CACU30W proves to be a great choice.
Today's best TPI 30" Commercial Circulator Wall Mount Fan - CACU30W Deals
Frequently Asked Questions
Does this fan come with a warranty?
This TPI 30" Commercial Circulator Wall Mount Fan comes with a one-year limited warranty. However, this coverage does not extend to product abuse and misuse.
Are wall-mounted fans good?
Wall-mounted fans can deliver powerful ventilation, cooling and temperature control quickly and economically without taking much space. Getting a high quality wall-mounted fan would offer a good investment for areas where the main goal is to move cool air around a room.
How do I clean the TPI 30" Commercial Circulator Wall Mount Fan?
This TPI fan is easy to clean and maintain. You can wipe out dust and debris with dish soap or natural cleaners like baking soda. If there are stains, you can rub them out with a toothbrush. However, don't forget to be careful with handling the blades and make sure that the cord q is unplugged from the socket.
How do I choose a wall-mounted fan?
Before you purchase a wall-mounted fan, you should look into the following: size, noise, ease of installation, versatility, target location, speed, and additional features. Feel free to compare the available options and find the best fit for your needs. Don't compromise on non-negotiable features to ensure you get the best value for your money.
How do I install the TPI 30" Wall Mount Fan?
Attach the fan enclosure included in the package to the joist using screws. Make sure you use the right screw measurement and that you do attach it tightly to ensure that there would be no chances of falling. If you are unsure, you can ask for help from a mechanic.
Should I get a ceiling fan or a wall-mounted fan?
Both ceiling fans and wall-mounted fans circulate air well in any space. However, if you don't have the time and resources to have a fan professionally installed, wall mount fans are a better choice. Plus, wall mount fans push the air throughout the space, while ceiling fans push the air down.
Where can I use this TPI wall mount commercial fan?
This TPI product is powerful and versatile—feel free to use it for residential or commercial purposes. It's perfect for wide open spaces, like your outdoor patio, event venues, or restaurants. But it is also usable for enclosed rooms, such as kitchens, warehouses, offices, basements, garages, and the like.
How do I change the speeds in the TPI 30" commercial wall mount fan?
This wall mount fan is equipped with a pull switch. You can use it to turn the fan on or off, as well as in choosing between the three available speeds.
Where should I place a wall-mounted fan?
Generally, it is best to have a wall mount fan at a good elevation level. Ideally, it should be around one to three feet below your ceiling—lower, if you have a particularly high ceiling. Use the middle of the room or other commonly populated areas in your space when looking for a spot to install your wall-mounted fan. After all, the fan should benefit the people in the room or area. Be considerate of the air circulation and how the fan will affect room temperature and ventilation for those who will occupy the space at any given time..
Specifications
| | |
| --- | --- |
| Circulator Head Size: | 30" |
| Weight: | 46 lbs" |
| Amps: | 2.4 |
| Minimum CPM: | 3,500 |
| Maximum CPMr: | 3,800 |
| Color Finish: | Silver/Gray |
| Construction: | Steel, Aluminum |
| Horsepower: | ¼ |
| Voltage: | 120 |
| Watts: | 300 |
| Speed Types: | 3 |
| Motor Type: | Totally Enclosed |
| Drive Type: | Direct Drive |
| Power Cord: | SJT 3 Conductor |
| Power Cord Length: | 9 feet |
| Mount Type: | Wall |
| Manufacturer: | TPI |
Product Care Guide
Be sure to secure the fan using the mounting bolts provided. Failing to do so might increase the risk of the fan falling and injuring people around the space..
Always turn off the fan first before inspecting or cleaning the blades.
Vacuum out dust or wipe the blades with a dusting cloth regularly.
Check how tight screws and bolts are, especially if you're hearing unusual sounds.
Have the fan motor checked periodically, just in case dust and debris get sucked in.
About the Featured Brand
For over 72 years, TPI has offered heating, ventilation, and lighting equipment for people all over the US. As an industry leader, TPI has earned the name "America's Comfort Conditioning Company." TPI remains as committed to research, development, and innovation as strongly as before.
TPI Corporation remains to be an excellent choice for products like heaters, thermostatic controls, ventilation machines, industrial fans, and lighting equipment. Get high quality heating, cooling, and lighting products from TPI today by checking them out at Engineer Warehouse.
Why customers like this brand
TPI provides products that meet OSHA standards for assured safety.
When customers have concerns on the products, TPI provides reliable customer service and support.
TPI has a strong product return and repair policy.
TPI products are easy to assemble and satisfy quality expectations.
Why We like this brand
TPI is one of the world's leading manufacturers of cooling, heating, and lighting equipment for residential, industrial, and commercial use..
TPI has 72 years of experience and proven expertise in their field.
TPI offers a wide array of products, including their accessories and replacement parts, making it easier to find solutions in prolonging product life.
Bestselling TPI Products
Products You May Also Like