Northwest Instrument Siteline Level Package - NSLP100B Review
Get the best measuring device for your construction projects with Northwest Instrument's NSLP100B state-of-the-art Siteline Level Package.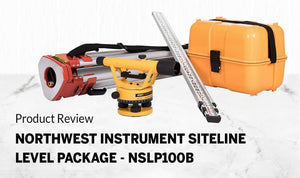 Our Verdict
4.6/5.0
PROS
Package offers convenience
Carrying case keeps things organized and handy
Easy to set up
Durable with high-quality materials
Excellent value for the price
Lightweight and comes with easy adjustments
Comes with detailed instruction manual
CONS
Range cannot handle larger projects
Requires manual reading to maximize use
Overview
Building and surveying is an exact science. You need to have precision, which is a key value in making sure that your projects will go smoothly and be free from errors. If you want to achieve perfection and precision, you'll get these results from the Northwest Instrument Siteline Level Package - NSLP100B.
The Northwest instrument NSLP100B comes in a group of five surveying tools: a multi-layer lens, a rubber lens jacket, a tripod, a plumb bob, and an aluminum grade rod. By having them all in one place, you can be sure that you have everything you need to finish your project.
These instruments, when combined, make the ideal measuring set up for any type of construction or surveying task. Basically, this siteline level package is something you can describe as a small telescope placed on top of a leveling block, where you can gain access to a 360-degree view. With this tool, you get precise measurements because it remains level no matter where you point it.
If you want everything to work well, you need to use the tripod to set the lens securely and maneuver the adjusters to keep everything leveled at 360 degrees. For the measurements, you get the rod to measure the elevation levels for you. When you combine all of these together, you get professional grade accuracy for your projects.
As a strong bonus, this set of tools comes with a hard carrying case so everything stays in one place. Bring it out on the field, keep it in your office, or bring it wherever your project takes you without feeling stressed over leaving behind one or two crucial items.
When you get the Northwest Instrument NLSP100B, you get something to last you for a lifetime. Northwest Instrument takes pride in producing professional grade tools and equipment for the engineering, construction, and surveying industries. You'll see how true this is in this SIteline Level Package.
Features and Benefits
Are you an engineer, surveyor, or a construction professional? Or are you a homeowner who loves building something new and renovating your property? For any construction project, you need accuracy and precision, and you get that with the Northwest instrument NSLP100B package.
First of all, it comes with the NSLP100B transit level. This level comes with a 360-degree horizontal circle with vernier scale, which are key features that ensure the measurements you make will hit the right spots and for precise readings. This tool also comes with a multi-layer lens which ensures clear and focused readings. If you're working outside and you need protection from the harsh rays of the sun, this level comes with a rubber lens jacket to keep your lens safe and help you use the level under bright sunlight with ease.
The NWI Siteline Level Package also comes with a tripod, a plumb bob, and an aluminum grade rod. This level can support both flat head and dome head tripods, but the one it comes with is a flat head with a quick clamp to keep things safe and secure. With all of these things in one great package, you can complete professional building, engineering, and surveying tasks.
Because you get five tools in one deal, there's no need to source things out from different providers—set them all out in the carrying case and you're good to go!
Here's a quick rundown of the best features of the Northwest Instrument NLSP100B Siteline Level Package:
A set of five tools protected with a hard carrying case
NSLP100B 20x magnification access site level
NAT83 Contractors flat head Aluminum tripod
NAR09E 9-inch aluminum grade rod
Manual leveling through three screws and a leveling vial
200 feet working range
State-of-the-art shaft system ensures constant accuracy
Quick and easy to install—makes use of an enclosure and screws to secure
Easy to clean and maintain
Has blade cages that meet workplace safety standards set by OSHA
Rubber lens jacket protects lens and provides sun shade
Industry Grade Dust and Water Resistance IP54
Level fits flat head and dome head tripods
Safety Features
With Northwest Instrument, you can expect high-quality and durable products that meet expert standards every time. The Northwest Instrument Siteline Level Package comes with an IP54 rating, which means the equipment is protected from dust and water—two things you might encounter when you're doing surveying projects in the field.
Aside from this, the hard carrying case is spacious enough to safeguard five pieces of equipment without leaving any wiggle room for them to bump into each other inside the case and possibly break. The hard case also comes with a lock to keep everything secure even in transit.
Best Ways to Use the Product
Make the most of your SiteLine Level Package when you apply best practices to your regular use. To start, you should double check that the siteline level is level throughout the horizontal 360-degree angle, otherwise, the measurements you will capture will be inaccurate.
Also, as you are adjusting the levels, turn both screws at the same time to avoid damaging the product. When you screw them on too tight, you won't get the correct measurements. Aside from that, having the screws extra tight may warp the base plate and cause permanent damage to your equipment.
When you are looking through the lens of the product, there's no need to squint or close your eyes. Doing so will tire your eyes, and you might distort your view which will result in inaccurate readings and reports.
Why You Should Buy
If you are someone who regularly does site and area measurements for your projects, you have to get the Northwest Instrument Siteline Level Package - NSLP100B. It is a certified asset as it will help you get correct and accurate measurements. This siteline level was designed to deliver precision—and that's what you deserve for your home, yard, or commercial building site.
Despite other instruments being available in the market, this set of five tools is such a good deal that it's practically a steal. There's no need to find matching pieces from separate brands. You have your siteline level, multi-layer lens, tripod, plumb bob, and grade rod to complete your tool kit.
User Reviews
The Northwest Instrument Siteline Level Package has a long list of satisfied customers with a fairly high rating of 4.7 out of 5 stars. Indeed, this shows that the Northwest instrument NSLP100B meets the expectations of buyers. Most of the reviews rave about how the products look and work as effectively as described.
According to a number of reviewers, the performance of the NSLP100B is the star of the show. Customers adore how well the siteline level does the job—particularly appreciating how accurate it is given its price.
This Northwest Instrument package also caters to a variety of customers. Some use this to design their home yard and swimming pool, while others use the level for their building construction. Whether a homeowner has some home improvement projects or if one is in need of professional quality equipment for small jobs, the Northwest instrument NSLP100B is a good choice.
Other users also appreciate how lightweight the tools are, making it very easy to adjust, carry, and install. In particular, the carrying case for the siteline level deserves its own praise as it helps store and transport the tools with ease.
Overall, assembling and disassembling can be a hit or miss. Some people think it is really easy, while the process is tedious for others. However, there's one thing that all of them can agree on—the siteline level package is functional and delivers high quality performance.
Today's best Northwest Instrument Siteline Level Package - NSLP100B. Deals
Frequently Asked Questions
Does the NSLP100B come with a warranty?
TAll Northwest Instrument products come with a three-year manufacturer's warranty. However, make sure that you buy from an authorized dealer, like Engineer Warehouse, to ensure that you will be able to avail the warranty.
Where is Northwest Instrument based?
Northwest Instrument is a manufacturer of positioning and measuring tools based in New Jersey, USA.
Does this Northwest Instrument product come with instructions?
Yes. Every purchase of the Northwest Instrument Siteline Level Package comes with an instruction manual for leveling and setting up before usage.
Does this package come with a tripod?
Though the Northwest Instrument Siteline Level Package can fit both flat head tripods and dome head tripods, this set of five different equipment comes with a flat head N583 tripod that comes with a quick clamp.
Does this package need electrical power?
No. The NSLP100B Siteline Level works well for small surveying projects without needing any electrical power.
What is the range of the NSLP100B?
The NSL100B is an ideal measuring device for all kinds of constructions with 20x magnification for a range that exceeds 200 feet and 1/4'' @ 100ft leveling accuracy..
What material is this product made of?
The Northwest Instrument Siteline Level Package - NSLP100B is made of steel, except for the lens parts which are made of glass.
What does IP54 mean?
The Northwest instrument NSLP100B is a product with an IP54 rating, which means that the tools are sufficient against dust ingress to prevent the product from its proper operations. Additionally, this level gets full protection against solid objects and water damage of any sort from any angle.
Is Northwest Instrument a good company?
Northwest Instrument has 30 years experience with manufacturing precision tools for the construction, engineering, and surveying industries. NWI has a Six Sigma certification which means that they work with effective and efficient processes to help them create high quality products and services.
Does this Siteline Level Package come with a stadia for measuring distance?
Yes. The level reticle of the Northwest instrument NSLP100B comes with horizontal cross hairs with stadia lines with a level stadia ratio of 1:100.
Specifications
| | |
| --- | --- |
| Level of Magnification: | 20x |
| Level of Working Range: | 200' |
| Leveling Accuracy: | 1/4" @ 100' |
| Leveling Mechanism: | Manual leveling using three leveling screws and leveling vial |
| Level Reticle: | Horizontal cross hair with stadia lines |
| Level Stadia Ratio: | 1:100 |
| Base Thread: | 5/8" x 11 |
| Ingress Protection Rating: | IP54 |
| Model Number | NSLP100B |
Product Care Guide
When you are not using the lens, make sure you cover it with a lens cap to prevent damage.
You can use detachable sun shades as an added layer of protection from the glare of the sun.
Always ensure that when you lift the item, you do it from the base and not from the telescope.
About the Featured Brand
Northwest Instrument is an American company from New Jersey that specializes in designing, manufacturing, and providing innovative solutions for various professionals in the world of construction, engineering, and surveying.
For over 30 years, Northwest Instrument has been one of the top sources for tools and equipment that are made in the highest standards to meet the precision needs that these industries need to survive.
NWI shows its commitment and dedication to these fields, going above and beyond the expectations of its customers to ensure that every building project will end up durable, high-quality, long-lasting, and safe for its users.
Why customers like this brand
Customers don't have to worry about matching their equipment to other parts as Northwest Instrument offers product packages that combine every equipment you may need in one go—including detailed instruction manuals.
Northwest Instrument shines in their excellent customer support for product inquiries and concerns.
The team behind Northwest Instrument values innovation and developing durable and high-quality products that last for a very long time.
Northwest Instrument provides a warranty period that extends up to three years from the date of purchase.
Why We like this brand
Northwest Instrument has three decades of experience under its belt which is a promising validation of the company's expertise.
Northwest Instrument has a Six Sigma certification, which assures customers all over the world will receive high quality products brought through efficient and effective processes.
NWI provides a wide variety of products, such as laser levels, transit levels, prisms, theodolites, technology tools, and the accessories that make them more efficient to use.
Bestselling Northwest Instrument Products
Products You May Also Like